Two Week Camp
Imagine a perfect day at camp...
You wake up in your cabin with your seven new friends, and your coaches remind you it is time for breakfast. Breakfast ends with songs and a Morning Meeting that gets you pumped for a day full of adventure and fun! Next thing you know you have shot a bow and arrow at archery, swam in the lake, made a painting at arts & crafts, and found the next clue in a treasure hunt. 
After dinner you and your cabin work as a team and run all over camp, battling against the other team in Capture The Flag. You're laughing non-stop as you sprint around with a hundred other campers. As soon as the game is over, you cheer each other on because your best friends are on your team and the other team.
At night you go outside to stargaze with your cabin, talk about your day, and play a game of Mafia before heading to bed and dreaming about tomorrow. Sounds like a perfect day? That is just one day at Live Oak!
And the greatness doesn't stop there. At Live Oak, we believe in the power of Bravery, Awareness, and Kindness.  We believe in the power of a high five, and the joy of encouragement. It is so much easier to work up the courage to jump off of a high dive when your bunkmate, your coach, and even your camp chef are cheering you on! Live Oak is a place that wants you to try new things, be kind to yourself and others, and simply be you. 
One more time…we want you to be your best self possible!  If that is something that makes you feel a little nervous and a little excited at the same time — well, you are going to love camp!
A Day in the Life of a Camper
| | | |
| --- | --- | --- |
| 7:15 AM | Wake up | Rise and shine! The sun is up, the birds are chirping, and it is time to have a wonderful day. |
| 7:45 AM | Breakfast | Awesome meal number 1 of the day. |
| 8:30 AM | Morning Meeting | Whole camp gathering full of songs, values-based lessons, and FUN! |
| 8:45 AM | Cabin cleanup | We live together, and we clean together. Clean the best you can for Delores, our camp cleanliness inspector! |
| 9:15 AM | Cabin IT time | IT is one of the best parts of Live Oak. IT will challenge you as a leader, as a teammate, and as an individual. So live into your values and look at the worth of your teammates to succeed as a whole. |
| 10:00 AM | Exploration #1 | Explorations are about you doing you! Want to try archery? Sign up! Want to dance? Sign up! There are dozens of options that span a week each. |
| 11:00 AM | Exploration #2 | Boating, Soccer, Arts and Crafts, Trip and Dip, Swimming Lessons, Maker Space, Field Games, Sports, Mechanics, Camper Council, Fitness and board games are just some of the other amazing things you can sign up for! |
| 12:00 PM | Lunch | Awesome meal number 2 of the day. |
| 1:15 PM | Flat on Back Time | This magical time of the day might not be your favorite on the first day, but after a few days of extreme fun and games, Flat on Back Time will become something you look forward to each day! |
| 2:15 PM | Snack | Fuel up and get ready for a great rest of the day. |
| 2:30 PM | Exploration #3 | Afternoon explorations change each session. They are specialties based off of what the coaches want to lead. They are something you don't want to miss. |
| 3:30 PM | Free time | Need time in the lake? Want to hang out on the porch and play cards? Free time is for you to enjoy the day you want it! |
| 4:30 PM | Campsite time | Head back to your campsite, take showers, play games, change and get ready for a night of fun. |
| 5:15 PM | Supper | Awesome meal number 3 of the day! |
| 6:30 PM | Evening activity | Each night we have a whole camp activity. It might be Talent Show, Capture the Flag, or Color Wars….no matter what it is, the Evening Activity is a highlight of your day! |
| 8:30 PM | Camp devotions | At Live Oak you make great, great friends. We finish each night with Cabin Devotions, and they are arguably the most special part of camp. They happen every night, yet they are never quite the same. You close out the day and grow closer to your cabinmates each night. |
| 9:30 PM - 10:00 PM | Lights out | Day is done. Gone the sun. See you tomorrow for another great day! |
We've Got a Ton of Activities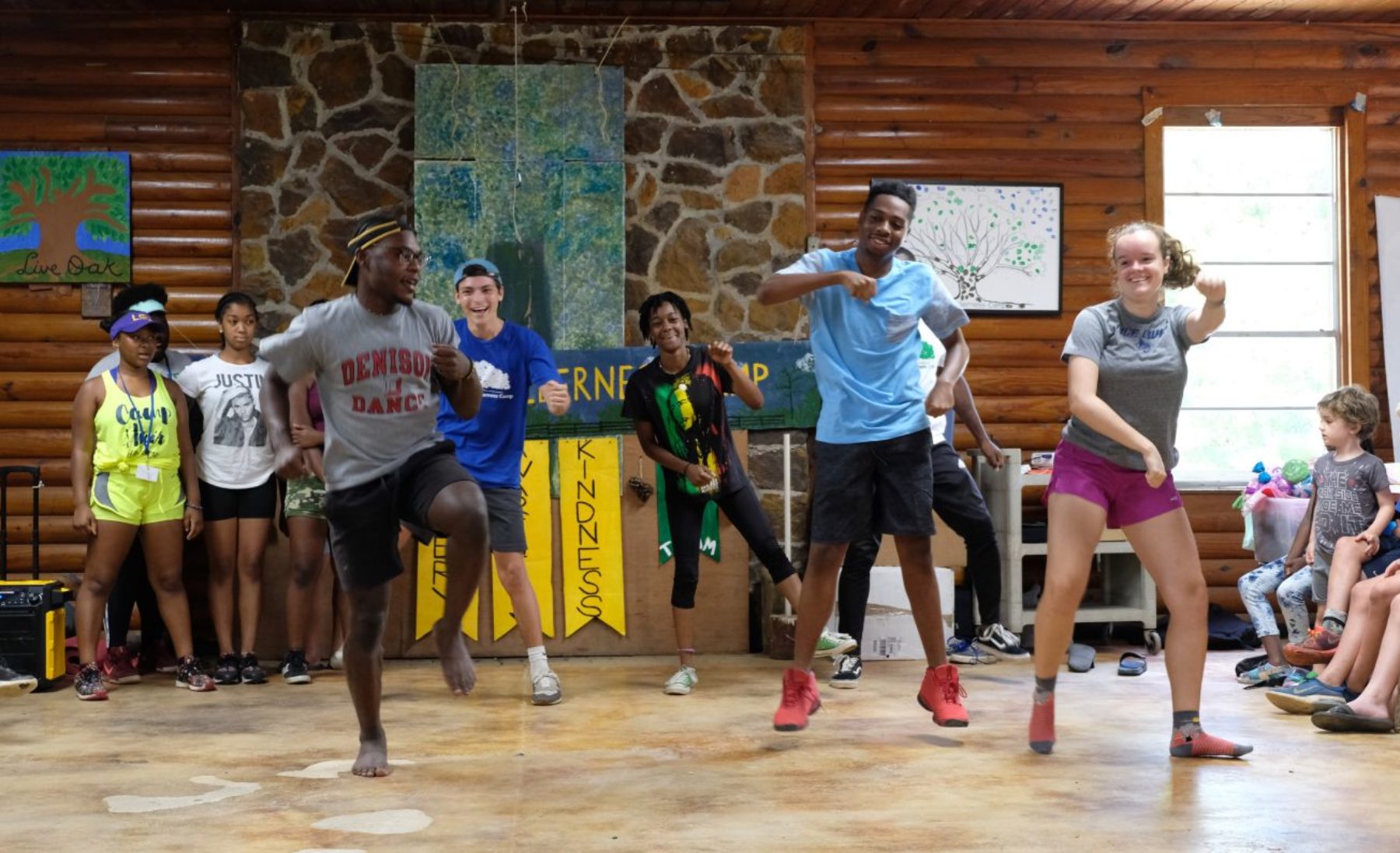 With our camp values, we have your B.A.K.
Live Oak is a community of kids, coaches, young adults, family members, and camp supporters who choose to live their lives by three different values. We aren't perfect — not by a long shot — and that is what makes it special to be here and to lean into chances to learn and grow.
Because we take our values so seriously, we require that every single person apply to come to camp every single year. We want to ensure that each year we are all still choosing to live by our three Live Oak values.
B is for Bravery
At Live Oak, being brave means being true self and standing up for what you believe in. Here at camp we lean into smart risks so that we can learn, explore, and grow.
It isn't always easy to do those things, but we value when people are brave enough to do the right thing, brave enough to try new things, and brave enough to be themselves.
A is for Awareness
At Live Oak, we try our best to be aware of ourselves and of others. We think carefully about how we impact the people, places, and communities of which we are a part. We strive to see things from others' perspectives and put ourselves in others' shoes when we make decisions. And we reflect intentionally on the question, Who am I?, in order to constantly grow.
K is for Kindness
At Live Oak, we treat others as we wish to be treated. We reject divisiveness and extend generosity and grace to others.
Live Oak LIVES for kindness. We are kind when we eat, kind when we play, kind when we compete, and kind during all times in between. This way of living allows us to create a place that focuses on building each other up instead of tearing each other down.